The flight will operate three days a week

This connectivity will boost trade and commerce and help Indian students studying in the UK
New Delhi, 28th March, 2023. Union Minister of Civil Aviation & Steel, Shri Jyotiraditya M. Scindia inaugurated a direct flight between Ahmedabad and Gatwick today.
The non-stop flight between Ahmedabad and Gatwick will be operated by Air India commencing from 28th March, 2023 as per the following schedule:
| | | | | | |
| --- | --- | --- | --- | --- | --- |
| Flt No. | From | To | Freq. | Dep. Time (LT) | Arr. Time (LT) |
| AI171 | AMD | LGW | Thrice a week | 1150 | 1640 |
| AI172 | LGW | AMD | Thrice a week | 2000 | 0850+1 |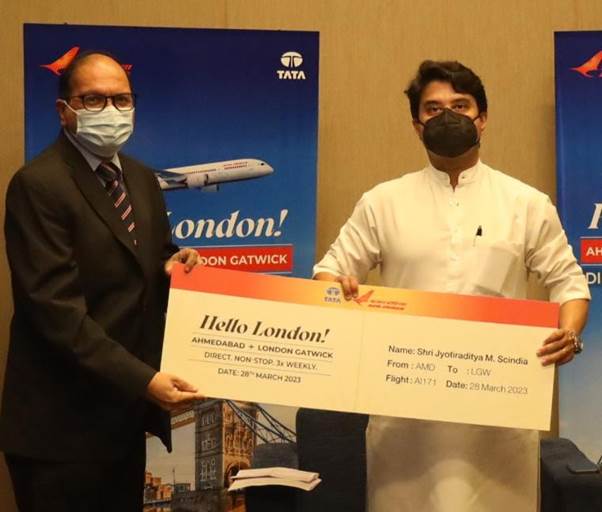 In his address, Shri Jyotiraditya M. Scindia said that this new air connectivity will bring in new opportunities for trade and commerce and help Indian students studying in the UK.
Speaking on the connectivity in Ahmedabad, the minister stated that the Sardar Vallabhbhai Patel International Airport, Ahmedabad currently has the capacity to handle 50 lakh domestic and 25 lakh international passengers. The government aims to increase the passenger capacity of Ahmedabad to 1.60 crore.
In 2013-14, Ahmedabad was connected to only 20 destinations and under the leadership of PM Narendra Modi, in the last 9 years the connectivity has increased to 57 destinations, he added. In last 9 years, the weekly air traffic movement from Ahmedabad has increased from 980 per week to 2036 per week, increase by 128%.
On the development of civil aviation in Gujarat, Shri Scindia said that the Union Government has given specific attention to the infrastructure development in the state. A new terminal has been developed in Kandla, a new integrated terminal building in Surat with the cost of Rs 250 crore, and a new ATC Tower cum technical building in Vadodara.  Currently, Gujarat has 10 airports, and with the development of two new greenfield airports in Dholera with a cost of Rs 1305 crore and Hirasar Rajkot with a cost of Rs 1405 crore this number will increase to 12.
In Gujarat, the number of flights operational from airports of Gujarat has increased to over 2500 from 1175 in 2013-14. Under the RCS UDAN scheme, Gujarat has been awarded 83 routes and 55 of them have already been operationalized and the rest will be operational soon.
Shri. Balwantsinh Rajput, Minister, Government of Gujarat; Shri Rajiv Bansal, Secretary, Ministry of Civil Aviation and Shri. Campbell Wilson, CEO-Air India were also present.